Cleanroom Sticky Mats – We are offering a wide range of Cleanroom Sticky Mats to our clients.
Cleanroom Sticky Mats catch the dirt and contaminates from the shoe and help to prevent them from entering a Clean Room Environment.The fast, convenient, reliable way to clean shoe soles before entering a clean area.
Peel-off sheets eliminate the need for messy cleaning and make it easy to maintain a clean surface.
Numbered corner tabs for easy tracking of remaining sheets.
What is Cleanroom Sticky Mats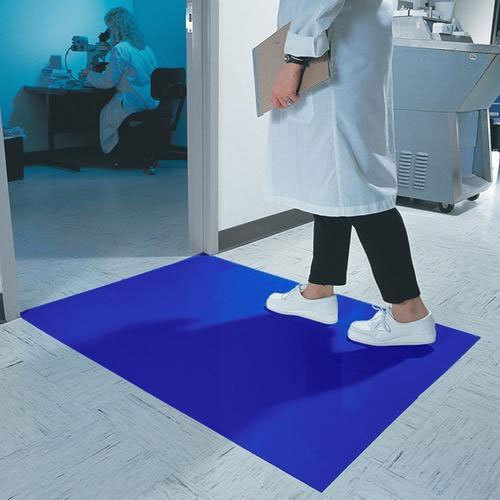 The cleanroom sticky mats is likewise known as a cleanroom sticky mats or a tacky mat having an adhesive floor that is located on the entrances and exits of certain places of work that gets rid of containments from the bottoms of the footwear and wheeled carts which include hand vans. They are most normally used at creation web sites and some different risky locations. The cleanroom sticky mats can be transient or everlasting.
The permanent ones are fabricated from polyester, polymer or polyvinyl chloride and the transient ones are made from a stack of adhesive plastic film layers that can be periodically peeled off or discarded. After peeling off the mat you want to wash and easy the floor with clean water and detergent to eliminate the stickiness.
Advantages of Cleanroom Sticky Mats

The cleanroom sticky mat has several benefits that make it the ideal product for every and every region. Listed under are some of them.
1.The foremost advantage is that it keeps the vicinity neat and tidy lowering the hazard of germs and bacteria.
2.Another factor is that you could reduce the fee of maintaining the cleanliness of the ground and store power.
3.They are manufactured from a polyethylene film fabric giving a clean and clean effect to the ground.
4.It has a non-slip and sticky-dirt characteristic that makes it one of the most appropriate products.
5.They are smooth to apply and can be taken off each time you sense that it is torn or has turn out to be very grimy.
6.The mats are usually product of polyester or polyvinyl-chloride based totally material or polymer making it durable and long-lasting.
7.The adhesive plastic film surfaces stick nicely to the floor so that it makes a firm look on the ground.
Features of Cleanroom Sticky Mats
Numbered corner tabs for easy tracking of remaining sheets.
Smooth,durable surface. Easy removal from sheet to sheet.
Perfect for cleanroom,laboratories ,special workshop and so on.
Customized color,size and thickness are accepted.
Why Choose PBSSVT For Cleanroom Sticky Mats
We provide the best quality cleanroom products to our clients. We offer cleanroom sticky mats at reasonable price. We offer quality products in industries.